Welcome to Rönninge Show Chorus
About us
Rönninge Show Chorus (RSC) is a world-class competitive female barbershop chorus led by Anna Alvring. With over 155 female members, spanning ages 23-83, we perform four-part harmony chorus music in concerts, competitions and at corporate events. Formed by founding director Britt-Heléne Bonnedahl 1983 in Rönninge, Sweden, RSC has been fostering and educating singers nationally and internationally ever since. Rönninge Show Chorus is 2014, 2017 and 2020 International Chorus Champions, Sweet Adelines International, with the highest international score in history.
Welcome to our web site!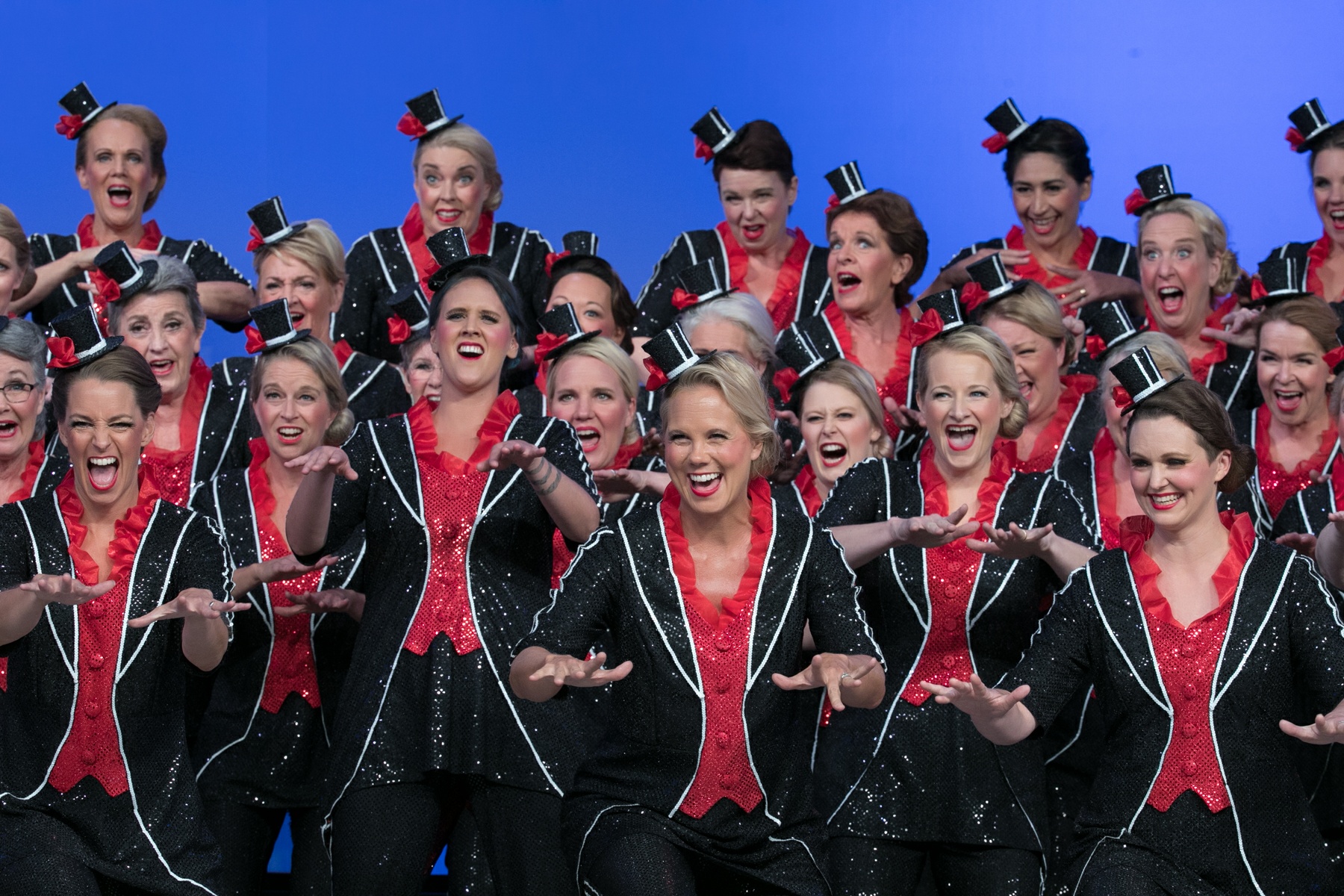 Photo: Read Photography
Open house (on Zoom) for interested singers
Rönninge Show Chorus wants to meet new members and invites to an open house. The information will therefore follow in Swedish:
Vill du sjunga med oss?
Rönninge Show Chorus drivs av kärleken till sången och att skapa musik tillsammans på en hög nivå. Kören har vunnit VM i barbershop tre gånger och det är alla medlemmars engagemang och starka vilja att utvecklas som har tagit oss till dessa magiska höjder. Vi vill beröra publiken och få dem att känna, vid varje framträdande. Oavsett om det är tävling eller konsert. Vi hoppas att du också vill det, för vi vill gärna bli fler som delar den upplevelsen.
Rönninge Show Chorus leds av Anna Alvring, som är vår dirigent och musikaliska ledare. Hon omges av många andra ledare, både musikaliska och administrativa, som ser till att allt fungerar. Under pandemin repar vi digitalt, i en kombination mellan Zoom och Jamulus. Varje tisdag har vi setts cirka 100 personer vid datorn, för att lära nya sånger och koreografier, och fortsätta att utvecklas tillsammans. Och oj, vad vi längtar efter att få träffas på riktigt och uppleva resultatet! Kanske du vill vara med då?
För att du ska få en bild av vilka vi i Rönninge Show Chorus är, vår repertoar och hur vi utvecklas tillsammans bjuder vi in till en Titt in-kväll, tisdag 25 maj, kl 18.30. Vi avslutar med mental träning kl 21.00 och därefter är du även välkommen att vara med på efter repet-häng om du vill. Våra gäster deltar i Zoom och får även en egen del av kvällen vikt för just er. Vi hoppas att du vill vara med och senare även komma med på våra rep IRL, när det blir så dags!
Anmäl dig till Titt in-kvällen genom att mejla till [email protected] senast söndag 23 maj, så kommer du att få ett mejl med länk och mer information om kvällen, när den närmar sig.
Varmt välkommen!
Visit us on ronningeshow.com
Follow us on Facebook
Follow us on Twitter
Follow us on YouTube
No front page content has been created yet.